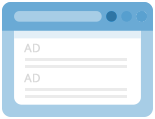 Digital Advertising (PPC) Programs
Increase the ROI from PPC, social, display and other digital advertising channels with continuous testing, benchmarking and optimization.

This program is designed to optimize online advertising budgets by conducting a 90 day test of up to 5 digital advertising channels and determining which channel preforms the best for that particular location. Channels may include Facebook, Yelp, Bing, Google and more. Each location serves a different group of customers, which is why this campaign is ideal for those who are looking to optimize online advertising efforts.