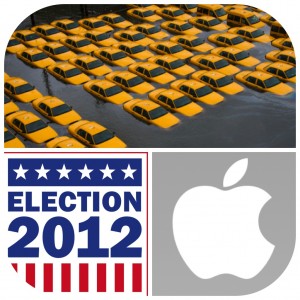 10/30 – 11/2 
If you invest your free time in strolling around social media sites and rummaging through blog websites, this is a short list of what you've probably seen. If you are not as experienced as the online magnate I've just described, use this quick roundup to go out and search for yourself. 
Hurricane SandyFirst off, our thoughts and prayers go out to everyone affected by this storm. It was and is heartbreaking to see the pictures of the devastation, and we are all keeping those people in our hearts and prayers. The silver lining in this situation was how fast support was scaled up to quickly make a difference. FEMA was present almost day of, and organizations of all sorts were helping in anyway possible. Social media literally blew up as Sandy was trending on every site, blog, and you name it. Social media was used as a great weapon as online marketplaces like iTunes were collecting funds to deliver to the Red Cross in support. Social media isn't just a place to tell the world your opinions, but it has evolved into a support channel for any situation.
The ElectionIt's that time of the year. No, I'm not talking about that day you smell that warm stuffing, mashed potatoes and gravy, and the juicy turkey just waiting to find a spot on your plate. It's election year and it is everywhere. The days where yard signs were posted in everyone's front lawn and mailers were sent out to the masses are nearly over. I'm getting personally tailored emails sent hourly, ads popping up on every YouTube video, and my Facebook timeline has more opinions than FoxNews, CNN, and MSNBC combined. It's incredible how these elections have adjusted to the most effective means of marketing today, heck they even have me blogging about it right now… genius.
Apple ExecutivesIf you have an iPhone, you may also have the frustration of dealing with the new map app. Now the interface is great, but who cares what it looks like when you are 1 mile from your destination and the app is now leaving you to you to find the red pin on your own (I know, it's personal). The lead software executive at Apple was fired this week after refusing to apologize for the map app's quality. Who knows what it will mean for the future of the sleek interface, but for now it just means we will be reading about it in every blog, twitter post, and Facebook update. Oh and don't forget about the iPad mini, I haven't held one yet so I will do the same with my opinion.